Invention Story
The Idea!
ASP Déchets 0.1 is an underwater machine that transforms waste into energy. It is 6.5 metres wide and 4.5 metres high, and all seven of its legs have sensors. ASP 0.1 can see waste from 1 km away, and the energy produced from the waste is used to operate its tentacles.
Image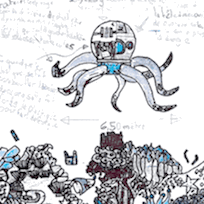 The Maker said...
A great idea
When I got the Benjamin's idea it caught my eye at the very first moment. I was so impressed about Benjamin's skills at drawing ...
Read more
The Maker said...
Anchoring ideas
Understanding the interactions of the spherical element, I decided to make an approach to the form from the first two ...
Read more

The Maker said...
Meeting the great Inventor
Finally, the day came to meet Benjamin.
We discussed many aspects about the conception of his wonderful idea, I ...
Read more

The Maker said...
Adjusting details like an octopus
The change of platform was not the easiest task, to make a recapitulation of pertinent knowledge to the ...
Read more

The Maker said...
Understanding why we design for the future
Thinking about plastic pollution and the current state of our oceans is a serious matter, I ...
Read more
Well done Benjamin! We can't wait to see all your future inventions.